Learn about the International Society of Amyloidosis
International Society of Amyloidosis (ISA), a non-profit organization of Scientists and Physicians engaged in research, teaching, or practice in connection with amyloid and amyloidosis. The aims of our Society are to promote research, education, clinical studies (including diagnosis and treatment), conferences and symposia on all aspects of amyloidosis worldwide.
Promote Research, Education & Clinical Studies
Attend Amyloidosis Conferences
Access Amyloid, The Journal
The September 14-18 ISA symposium has been moved to a virtual platform
As you are all aware, the meeting was postponed from its original March 2020 dates, to September 14-18, 2020 due to the COVID-19 pandemic. Despite our hope for a physical meeting, we realize that this is not possible due to present circumstances - Particularly due to travel restrictions, and also to social distancing guidelines.
The decision has been made to hold the XVII ISA Symposium on a virtual platform, maintaining the week of September 14, 2020. More information to follow.
We regret any inconvenience that this change may cause, and we thank you for your understanding.
A PDF version of the program can be found here.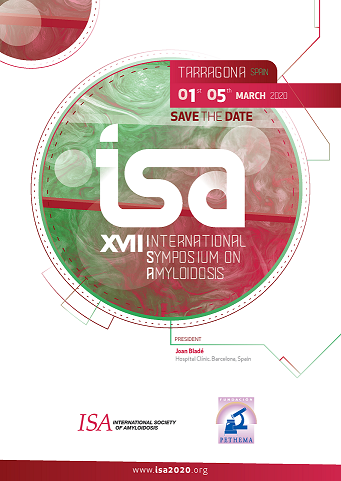 Watch this space for information regarding the ISA 2020 meeting in Tarragona Spain.